Sales Enablement
Replystream provides sales enablement solutions to address the common challenges that impact sales and marketing productivity. The goal of sales enablement is to enable new sellers and partners to be fully productive in the shortest possible time, and to ensure existing sellers remain productive.
Challenges
The experts agree that successful sales on-boarding typically takes 5-10 months, many times longer (and sometimes never).
Brainshark says from studies that "it takes 10 months of more for a new sales rep to be fully productive."
CSO Insights survey states that "47% of companies say it takes 10 or more months for new sales people to become fully productive (67% are 7 or more months)."
The SAVO Group states that "in the average B2B sales organization, it takes 6-10 months to fully onboard new hires."
The Bridge Group, Inc. Inside Sales Report 2015 states that "the average ramp time for inside salespeople is 4.9 months, and in 42% of organizations it is greater than 5 months."
The Qvidian annual State of Sales Execution report cites 2 of the top 4 reasons for not achieving quota as "sales unable to effectively communicate value" in 41% of organizations and "ramping up reps takes too long" in 36% of organizations.
To better understand the factors that influence new-hire ramp we conducted detailed research with 27 customers; you can download the study here.
The conclusions are straightforward; people learn quickest by doing, and the sooner you can enable them with tools that assist in completion of selling tasks, the shorter your ramp-time will become.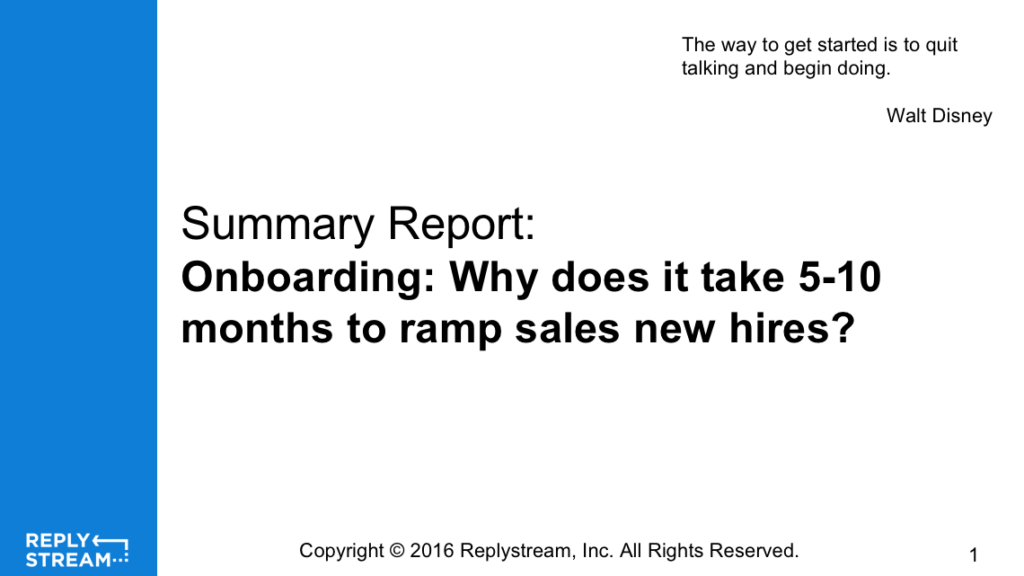 Use-Cases
Replystream sales enablement solutions help you support many common use-cases in sales and marketing.
Business Benefits
By helping your sales and customer success team at the critical point of engagement - when they are interacting with prospects, partners and customers - we can deliver significant gains over traditional sales enablement solutions.
Minimize Launch-Time
Quickly ramp new-hires, roll-out new go-to-market messaging and launch new products.
Increase Pipeline Generation
Improve prospect discovery and the consistency of qualification.
Maximize Productivity
Maximize the productivity and potential of your direct sales organization and channel partners.
Get Started Now
Find out today how Replystream can help you grow revenues.