Ideal Customer Profile
Developing an ideal customer profile enables you to focus on the target markets that are relevant for your sales organization today. Ideal customer profiles are evolving all the time, so understanding where you are having success today will help you direct your sales effort for maximum payback and results. As the customer profile changes, you'll be able to see new market segments forming and quickly adjust your resources.
Addressable Market: Focus on the market segments that are buying now
When the contents of your CRM aligned to your current target addressable market, sales people will focus selling to prospects that you know are active buyers of your products.
Quantify your addressable market
Identify target companies are in your CRM
Key buying contacts for your prospects
Marketing aligned with your target market
Sales focused on the most-likely buyers
Campaigns that leverage your customer stories
Compare your CRM with your target market.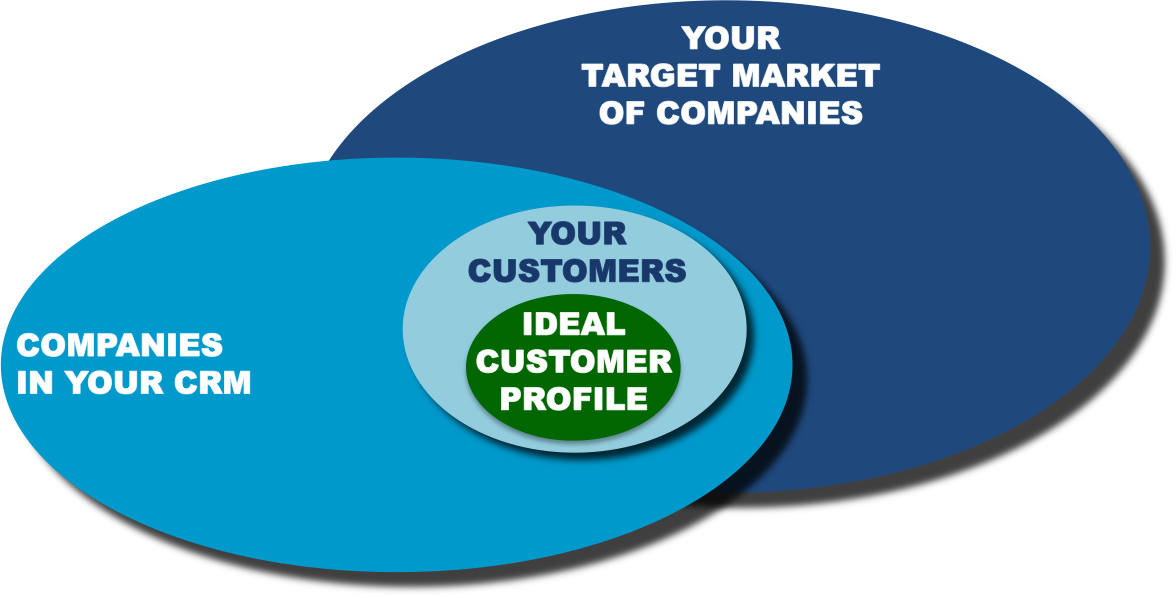 Firmographic: Identify the markets and organizations that drive success
Many organizations have incomplete customer data; often in worse shape than their lead data. Without capturing the minimum firmographic information, and other attributes unique to its business, an organization will struggle to understand who their customers are, and use this insight to drive more business.
Identify successful industries and market segments
Find natural groupings of organizations
Identify firmographic information by segment
What customer references are relevant by industry
White-space analysis of existing markets
Secure bridgehead customers in new market segments.
Demographic: Find your real customer buyers and influencers
Clarity about the key buyers and influencers in your sales process, allows you to provide content tailored to those personas, and conversion rates to increase.
Complete information about customers
View key contacts by function and role
Develop your own taxonomy of buyers
Detailed ideal customer profile analysis
Identify your target contacts
Re-analyze every quarter.
Get Started Now
Find out today how Replystream can help you grow revenues.